ML Monitoring for Your Data and Models
Make the most of your machine learning models in production by identifying performance degradation, data quality issues, and model drift.
Monitor, improve, and trust your ML models.
Model Drift
Measure ML model inputs, outputs, and performance for drift.
Data Quality
Detect data quality issues anywhere in your ML pipeline.
Bias & Explainability
Understand what's driving your ML model decisions.
Identify and address emerging issues faster and resolve them more effectively with continuous ML monitoring.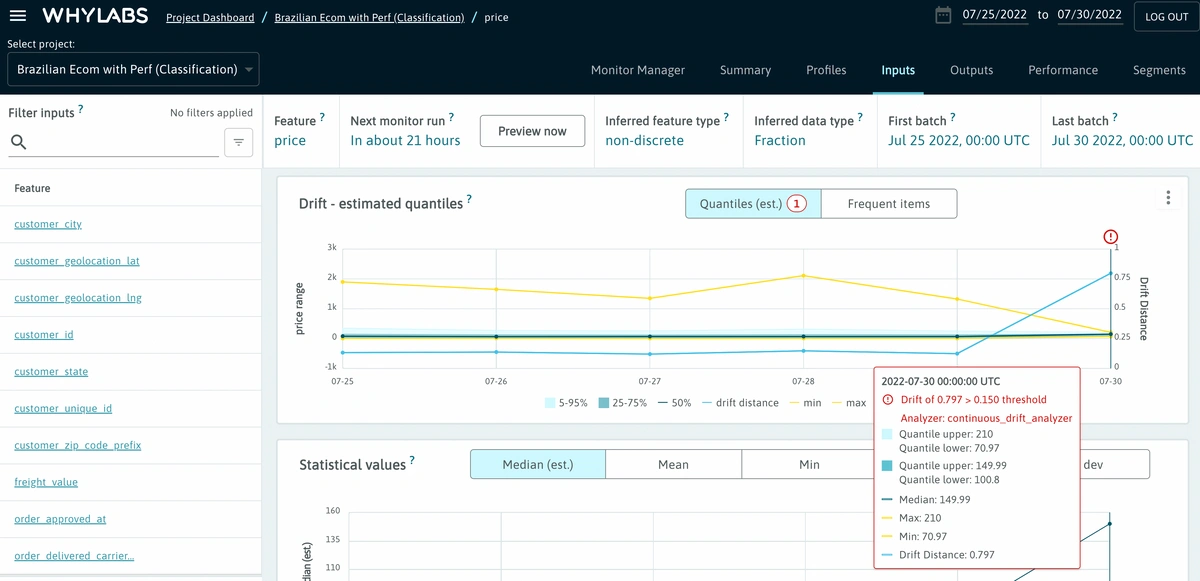 Model Drift Monitoring
Without continuous visibility into an ML model's input and output, you risk model performance degradation caused by data drift, data quality, schema changes, and more.

With WhyLabs, you can ensure that your models remain accurate and reliable with one-click monitoring to detect feature drift, label drift, and concept drift in real time. Once drift is detected, resolve quickly with purpose-built dashboards or automatically fix the issue by retraining the model via an automated workflow trigger.
Get started
Model Performance Troubleshooting
Model performance monitoring and debugging can be challenging due to the complexity of models and the large amounts of data they process.

The WhyLabs platform can help switch on ML monitoring with zero configurations as well as support entirely custom metrics. Once the issue is detected, a wide range of tools for root cause analysis such as segmentation (slicing & dicing) and tracing (identifying the worst performing segments) help pinpoint the issue in a matter of minutes.
Learn more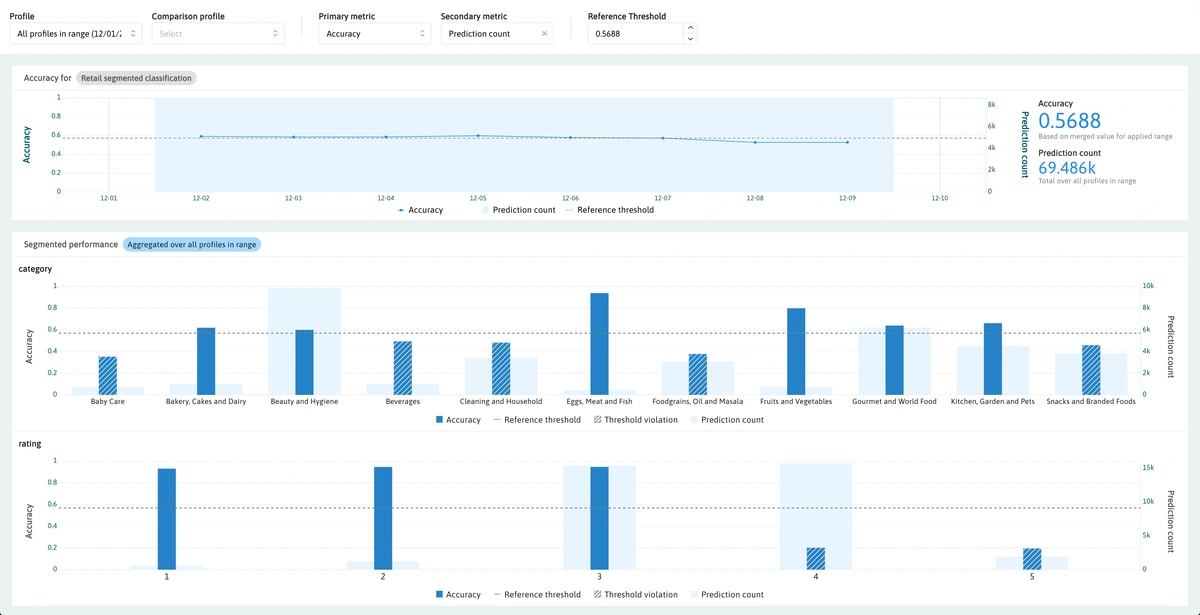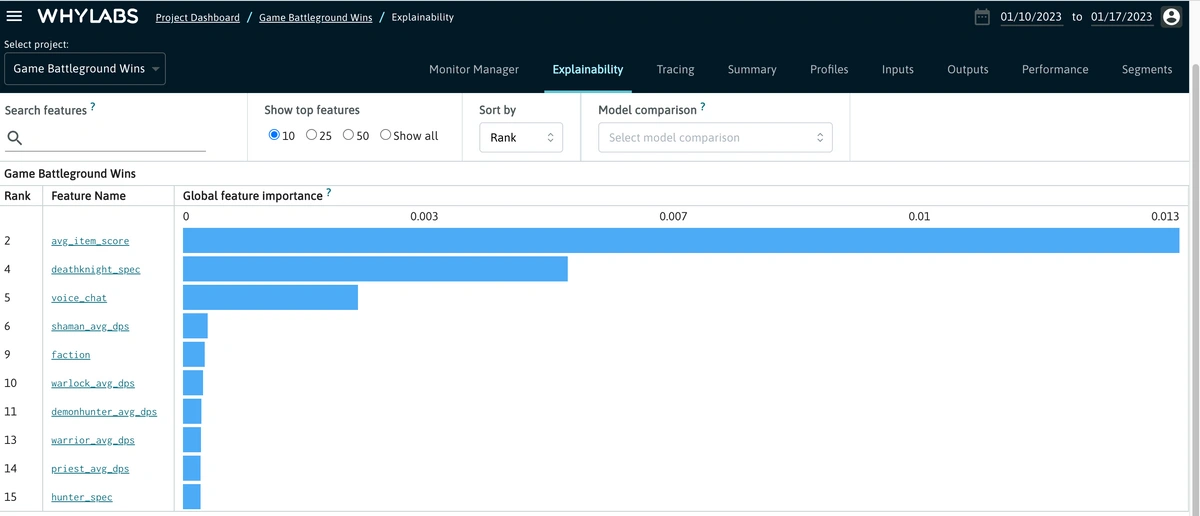 Bias Detection and Model Explainability
Bias in ML models can be harmful to model performance and most importantly to customer trust. Identifying when the model is generating biased predictions and resolving them quickly is absolutely critical. Identify bias quickly with a purpose-built Bias Tracing in WhyLabs.

Explainability features are essential for root-cause analysis and monitoring. WhyLabs platform enables users to continuously track global feature importance and use feature importance weights to configure monitors, establish impact, and find a root-cause.
Get started for free
A Unique Approach to ML Monitoring
5-minute onboarding: with 40+ out of the box integrations, onboarding a new model from any environment is as easy as a few lines of code.
Zero-configuration monitoring: configuring monitoring is as simple as pointing WhyLabs to the training data or defining a moving-window baseline, no manual threshold configurations necessary.
Maintain data privacy: WhyLabs does not move raw-data or duplicate raw data for monitoring, ever!
Enterprise grade standards: Never compromise on security and privacy requirements. WhyLabs is SOC2 and built with AWS Security & Privacy standards. The platform is battle-tested in Fortune 100 Healthcare & Banking deployments.
Cost-effective: ML monitoring should not break the bank! The total cost of ownership does not increase with the volume of ML inferences because WhyLabs unique approach does not duplicate inference data for monitoring.
Get Started with ML Monitoring in Minutes
Trust WhyLabs to enable ML monitoring to detect model issues faster, deliver continuous improvements, and avoid costly incidents so you can focus on improving your models instead of troubleshooting them.

Get started by creating a free WhyLabs account, or schedule a call with one of our solution engineers to see how WhyLab can be used in your project!